I love the classic Disney movies, especially the princess ones--hey it's who I am ;)
The fact that Disney has been remaking these movies into live action films is beyond fantastical and so exciting for so many great reasons. I bring this up now because of the new CINDERELLA movie that releases this weekend.
So not gonna lie, I am a part of a local movie group, in DC, that usually gets invited to private advance screenings of movies, ages before they are released. (I know I'm so special, right ;P) Guess what, we got not one, but 2 advance screenings to the new CINDERELLA. I was totally that girl that signed up for both!
Which means yeah---it was BEYOND fantastically a-maz-ing!
We also know, since it was recently announced, that Emma Watson is going to be playing Belle in the new live actin BEAUTY AND THE BEAST----what's more that Luke Evans (drool) is going to be playing Gaston. This I have to see ASAP.
I admit I was really nervous about CINDERELLA because of my feelings towards several of Disney's recent live action movies, but CINDERELLA gives me great hope for BEAUTY AND THE BEAST.
In case your interested, here's my thought on said Disney live action remakes/plays into movies from recent times.
CINDERELLA
When her father unexpectedly passes away, young Ella finds herself at the mercy of her cruel stepmother and her daughters. Never one to give up hope, Ella's fortunes begin to change after meeting a dashing stranger in the woods.
My
official
thoughts
and rating--> 2 thumbs way way up. 5 stars too. I loved how Ella remained true to the
original
personality of Cinderella but
with
just a little more spine and playful sass to her.
The Prince: Kit--oh mama! MINE <3
No spoilers, but they had some very cool twists in the movie!
It's clear to see no effort or
expense
was spared
with
the costumes
and
graphics, but I think what was my absolute favorite part was the music.
Patrick
Doyle is always amazing! I highly
recommend
seeing this one and then
seeing
it again and again. The cast for this showing was perfect.
MALEFICENT
A vengeful fairy is driven to curse an infant princess, only to discover that the child may be the one person who can restore peace to their troubled land.
Sleeping Beauty is tied with Beauty and the Beast for my all time favorite Disney movies so when they remade Sleeping Beauty the way they did I was hesitant.
My rating--1 1/2 thumbs or 3.5 stars. Over all not bad
I say this because I feel like this shouldn't count as Aurora and Prince Philip's movie. If I look at it as it's own entity then yes, I like it more. I loved the look and music and actors, and the fact that they made the 3 fairies so forgetful and cra-cra. Plus Maleficent's character was great, thought I saw the whole true love's kiss thing coming--can anyone say ONCE UPON A TIME? Plus Once Upon A Dream is my ultimate dance song. I like Lana Del Ray's new version for the movie, but it took a hot second.
INTO THE WOODS
A witch tasks a childless baker and his wife with procuring magical items from classic fairy tales to reverse the curse put on their family tree.
1 Thumb or 3 stars.
Okay, yes,
technically
this was Disney's take on a
Broadway
play,
but
I'm still counting it. They got one heck of an all star cast, with beyond great acting and singing chops. As expected the look, graphics and music were...well... perfect. I especially got a kick out of
Billy Magnussen
and
Chris Pine
's
singing
scene. I was rolling in the theater. I also liked what they did with Cinderella and Prince Charming, but I'm not giving away any spoilers! My biggest issue with this movie was how many of the amazingly spun story lines were left unfinished. I felt like I missed 20 minutes worth of movie that would have wrapped it all up. Plus Johnny Depp was only in it for like a hot moment :( All in all, not a bad movie, but I wanted more.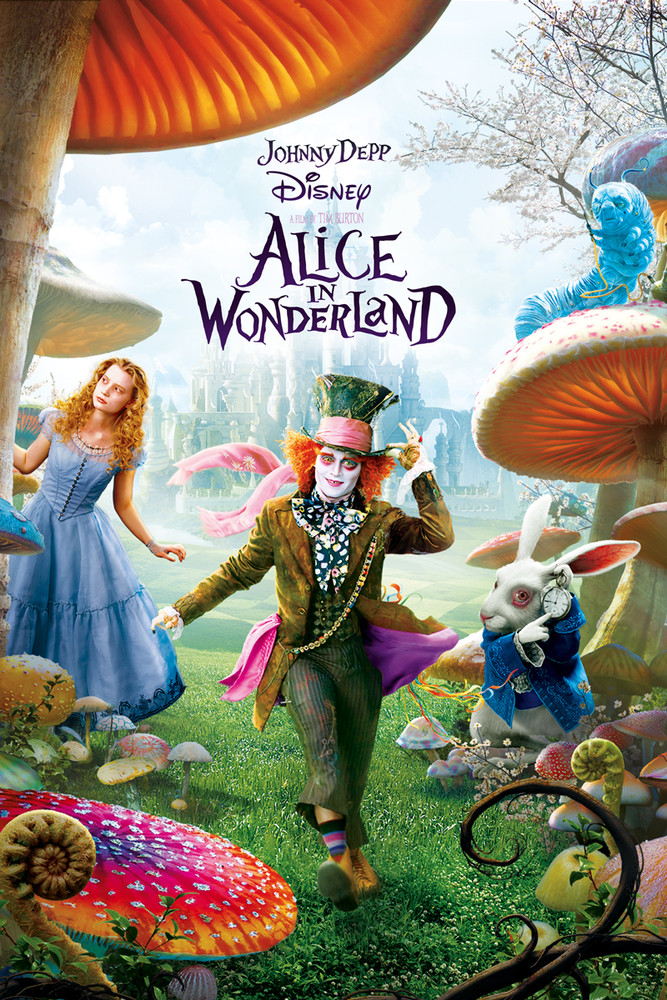 ALICE IN WONDERLAND
Nineteen-year-old Alice returns to the magical world from her childhood adventure, where she reunites with her old friends and learns of her true destiny: to end the Red Queen's reign of terror.
2 thumbs or 4 stars.
I am a sucker for Johnny Depp (there could never be a better choice for the Hatter besides Johnny!)--except for Pirates 2 through however many Disney feels are make-able. I also love Anne Hathaway so seeing her as the White Queen just made it even better. The looks and music were great, totally setting the standard for all the movies that followed. LOVED Alice and her story line! And the Red Queen..pfft, no one better. I can't say I disliked anything in this movie, but I think I just felt like there could have been more. Thankfully, they are making a second Alice movie, to release next year, so that takes care of me wanting more of a great thing :)
And now I've gone on long enough about my Disney and general movie obsession so I'll leave you all with this last little tidbit to help show just why I love the new CINDERELLA so much!
<3 always LH