Post Title: YA Scavenger Hunt
Welcome to YA Scavenger Hunt! This tri-annual event was first organized by author Colleen Houck as a way to give readers a chance to gain access to exclusive bonus material from their favorite authors...and a chance to win some awesome prizes! At this hunt, you not only get access to exclusive content from each author, you also get a clue for the hunt. Add up the clues, and you can enter for our prize--one lucky winner will receive one signed book from each author on the hunt in my team! But play fast: this contest (and all the exclusive bonus material) will only be online for 72 hours!
I am a part of
TEAM INDIE
--but there are five other teams besides mine so check them all out for a chance to win a whole different set of twenty-five signed books!
Somewhere in this post, you'll see a big number in a special color, remember that number and all 19 others from my
indie team
,
and then add them up (don't worry, you can use a calculator!).
This is open internationally, anyone below the age of 18 should have a parent or guardian's permission to enter (gotta add in the legalities there). To be eligible for the grand prize, you must submit the completed entry form by
OCT 5th
,
at noon Pacific Time. Entries sent without the correct number or without contact information will not be considered.
Now that the rules of the hunt and the formalities are out of the way time to get back into the hunt!
I am hosting

SARENA & SASHA NANUA, authors of the PENDANT TRILOGY,

on my blog for the YASH!

Sarena and Sasha Nanua are teenage twins living in Mississauga, Ontario. They love reading books in their spare time and enjoy science fiction and fantasy novels. They have been writing books since they were nine years old. The Gemstone is their first novel.
The book this author duo are featuring for the hunt is the third book in their trilogy: THE POISONED EMERALD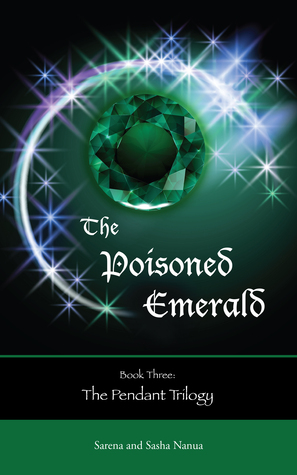 The poison is spreading....
I wrapped myself in the portal's embrace and felt my feet land on a new surface. I stood on a sandy beach that was wet and damp, causing the ground to stick to my shoes. The portal snapped shut, and I felt misty rain dance on my shoulders.

Thunder sounded from overhead, and before I could comprehend the impending storm, a gash of lightning hit the hill just to the right of the river. The ground quaked below me before an explosion of sand burst from the ground.
AS WINTER ARRIVES Arica Miller is back to regular school life at Hill Valley. After resolving the disappearance of the King's Jewel and returning it safely, Arica doesn't expect anything else to go wrong. Too soon does Arica learn that a great evil—a poison—has spread through the Sorcerers Underworld, threatening to take away all magic. And worse, the only person who can save the magical world has been kidnapped: the king. In order to find the king, Arica and her friends must follow an ancient prophecy in which they must defeat vicious creatures, travel through mysterious forests, and restore peace to the poisoned land—no matter how dangerous it could be …

In this final installment of The Pendant Trilogy, Arica learns of dark pasts, unknowable futures, and the truth of the pendant's origin. Arica doesn't have much time left—and if she fails, the mortal and the magical worlds are both at stake.
Sarena and Sasha Nanua have a very special post, an interview that is going to be published in

Teen Appeal Newspaper for Memphis Youth in Tennessee! How exciting :)
1. What is your website/blog or any other kind of social media sites?
2. Why and when did you start writing?
We began writing at the age of nine! We were on a trip to St.

Maarten

, and while on the airplane Sasha began writing a story in a journal we brought with us. I liked what she wrote, so I continued from there! We've been writing books ever since.
3. What is your favorite thing about reading? About writing?
Reading is such a fantastic experience. It's a way to escape into a new world for a while ... that's probably why we love fantasy so much! Writing is also an equally cool experience, excerpt you're the one creating the story! We have always loved writing because it's our creative outlet! Writing just feels natural! The best part is probably thinking up new worlds and stories for your readers to experience.
4. Where do you get inspiration?
We tend to take inspiration from things all around us. Of course, we obviously take inspiration from other authors--

JK

Rowling namely being one. If we ever feel like we need inspiration, we'll think up a random object and think of how we can add a fantastical twist! (For example, we once saw a Coke can with a kite on it ... and then built a whole idea around it in our second book, The King's Jewel!)
5. What is The Pendant Trilogy about? Where is it available (Sites/Stores)?
Our first book, The Gemstone, follows a fifteen-year-old girl named

Arica

Miller who is given a magical gemstone necklace from her mother. Soon after, she receives strange hallucinations which connect to her family's past with sorcery. All dating up to Halloween night,

Arica

has to battle monstrous creatures, suspicious friends, and an enemy keen on stealing her gemstone! (It is Young Adult Fantasy.)
6. How far do you want your book to reach? Do you see your book getting its own movie adaptation?
I suppose any author hopes their book will reach a wide audience. That's our goal! We truly believe both young and old readers would take interest in

Arica's

story. If our book ever became a movie, we would be ecstatic!
7. What kept you motivated to keep writing?
We always wrote just for the fun of it. Ever since the release of our first book, when we knew people were actually reading our book, our new motivation became our readers (family, friends, and readers from far and wide!). Our goal has always been to become authors--and at a young age, we had done it!
8.How did it feel to get your book published?
We were so excited! This had always been a dream of ours. Now, when people ask what we want to be when we grow up, we still want to sayAuthor! Even though we already are ...
9. Do you have any advice for teenagers who want to pursue a career as an author?
Keep writing, despite any negatives! Writing should be a fun experience. If you really want to be an author, practice reading every day; study why and how an author writes the way they do. Soon enough, your writing style will begin to shape itself and you might just create a best-seller!
10. For teenagers, other than your own book of course, what do you recommend to read?
Some of our favourites include Harry Potter, Percy Jackson, Uglies, and the Daughter of Smoke and Bone Trilogy! These are great for teens and even adults!
11. How old were you when your first book was published?
We were fifteen when The Gemstone was published! The next book, The King's Jewel, came out when we were sixteen, and the final when we were seventeen.
12.Do you have any advice on how to get published?
Research as much as you can! There are so many great writing and publishing books and groups out there--you could get lost in the labyrinth of the publishing world on social media! Keep your eyes open for competitions and agents who are looking for your genre of work. There are so many options, it's important to explore them all and choose the right one! And most important of all: writing a book isn't about the market; you should write something you love, despite the market and the trends. Write for you, and you will have the determination to get published!
And don't forget to enter my rafflecopter below for a chance to win a ton of stuff from me, LH Nicole! You know, I have no idea why, but for some reason the number
29
keeps popping up in my head. Huh, go figure. Well it's time to continue your hunt, but before you go look below for cool prizes to win! It's so easy how could you not want to? LOL.
Continue the Hunt! Your next author on the
TEAM INDIE
hunt is MATTHEW PHILLION Have fun and remember to keep track of all the wonderful and fantastical books you're going to get to see :)
a Rafflecopter giveaway